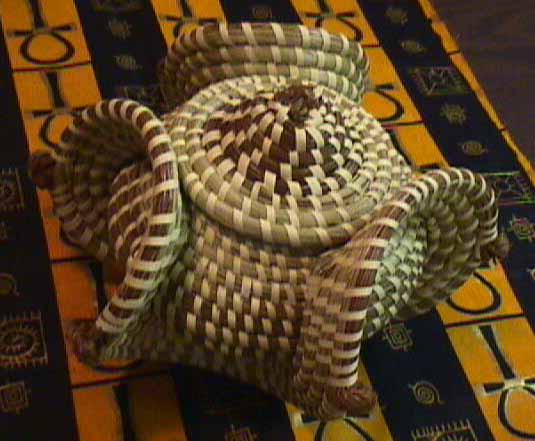 My parents used to live in the
Lowcountry
of South Carolina. One of the local crafts is the making of handmade baskets using
sweetgrass
. This
morning,
I read a reflection on
sweetgrass
in a newsletter from Holy Cross Faith Memorial Episcopal Church in
Pawleys
Island, SC. It quotes Karl
Ohlandt
, an ecologist and landscape architect. He says, "
Sweetgrass
thrives in poor, sandy soil exposed to hot sun, strong winds, and salt spray." He note, "It's a tough life." Apparently, some time ago, people tried to increase
sweetgrass
yields by planting it in rich soils away from the hardships of its natural habitat. It grew well. However, the "easy living" produced "long, weak leaf blades,"
wholly
unsuited to making good baskets. As
Ohlandt
says, "the
grass
has to have survived difficult times: long periods of
drought
, storm winds carrying salt spray, and soil with little nutrients." (Thanks to Callie, of Holy Cross, for writng about this in the newsletter.)
I love these types of parables. I can almost hear Jesus starting a story with, "The Kingdom of God is like the sweetgrass that . . . " As much as we want life to be easy, as much as we plan to avoid the hardships, it is just those times that bring strength to our weary souls and minds. This parable applies to life in general. It also applies to the struggle for economic and social justice that inform the MDGs. The struggle makes us stronger. It nurtures us, teaches us, strengthens our resolve to press forward. The struggle helps us to weed out the wheat from the chaff of our lives, helping us to see what we truly value and where we really want to go.
Thanks for the sweetgrass that thrives in less than ideal conditions, for the Kingdom of God is like that too!